Visiting the Washington DC on a short holiday can be daunting.
There are so many things to do during the day in the US capital, you could easily run out of time to see everything.
However, there are some attractions in Washington best left for visits at night.
Check out our recommendations for the best attractions and things to do in Washington at night.
Also read: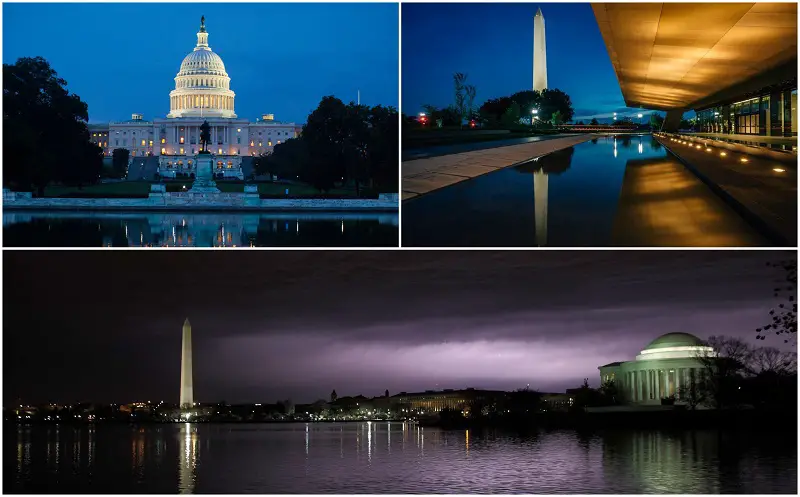 1. Tour the Monuments
The monuments are pretty cool during the day, but they really shine at night, and there are so many!
The Lincoln and the Washington Memorials are the most famous, and definitely worth a visit.
Seeing them on television or in pictures doesn't compare to seeing them in person.
Others, like Iwo Jima and the FDR memorials, seem to come to life at night, lit up, and with the backdrop of the dark sky, they are breathtaking.
See the flag wave against the darkness and even just for a moment, let yourself see it as the shining beacon of hope it is meant to be.
Walk around and see a few by yourself, or book a tour and get the most out of your time.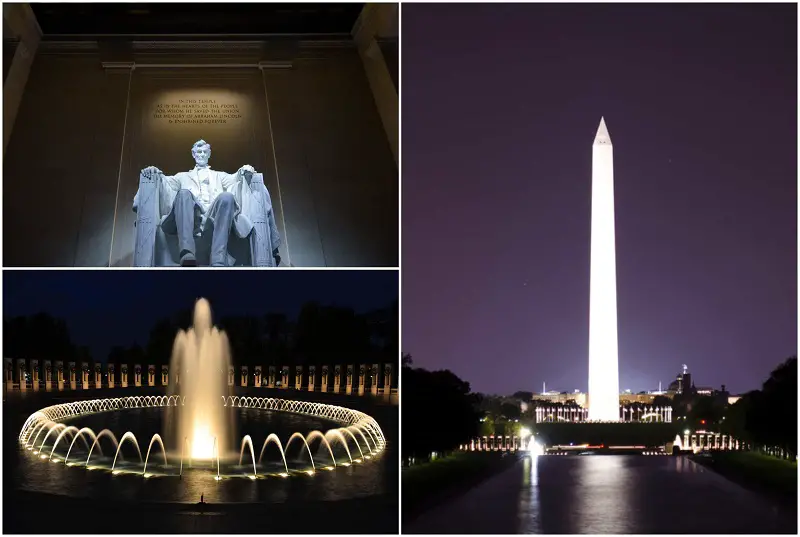 2. Washington DC tours at night
There are a number of ways to see Washington at night and it won't be hard to find a convenient mode of transport to suit everyone.
You can either jump on a bus, stroll in a trolley, ride a bike or zig zag through the city on a segway.
Take your time seeing major attractions and see them light up at night.
Here are a few recommended tours
A safe and secure way to travel through the city at night, this 3-hour, fully narrated tour will take you to see The FDR Memorial, Lincoln Memorial, Vietnam Veteran, Iwo Jima Memorial, The White House, and more.
Take this trolley tour and see 100 of Washington DC's memorials. You'll make stops at some of the most famous memorials and hear some chilling ghost stories along the way.
Try out these e-bikes with your friends or family and see some of the nations most famous memorials.
The ever-popular segway tours are even better at night. You'll see more than just monuments on this tour, all without taking a step.
3. Entertainment
Concerts, shows and sporting events are a great way to spend the night in Washington.
Check out what shows are coming to the Kennedy Center, the Hamilton, or the Capital One Center.
4. Military Events
The military offers several exciting events in Washington DC at night.
You don't have to support war to appreciate the troops and the shows they put on for the public.
Whether you want to see People in uniform marching on in a parade or listen to some unique music, the military will put on a unique performance for you. Here are a few options:
5. Museums Open at Night
Not limited to history or art, the museums in Washington DC have a lot to offer.
Even though some museums close early in the evening, a lot of them stay open, hosting concerts or galleries at night.
6. Go to a Nationals Game
Baseball is America's pastime and DC is America's capital, why not enjoy a baseball game in DC at the Nationals Park?
The Nationals may not be the best team in the league, but baseball games are a must experience for neutral visitors!
Get involved in the cheers and songs they play at each game.
Let yourself get hyped up, feed off the energy of those sitting around you.
You may just make a friend for the rest of your trip, maybe for life, or at least for the rest of the game!
7. Watch a Movie
Washington DC has a few different theaters you can choose from, including a drive-in!
Remember when deciding what to do at night that you're on vacation and you could see the movie in your hometown or stream it online (if the theater is playing an older movie), you're not going just for the movie, but to experience the theater too!
8. Show at a Live Theatre
Washington DC may not have Broadway, but it is on par for talent and options.
Both newer and classic plays are featured in most Washington DC theaters.
Here are a few options for some great entertainment at night in Washington:
9. Comedy Clubs
Get a laugh out of your stay in Washington and visit a comedy club or two! Often entry is free, but there will be a two-drink minimum.
Be aware, not all shows are kid friendly! Here are a few options you can consider:
10. Visit Georgetown
Once a bustling port town, Georgetown (DC's oldest neighborhood) still has a lot to offer visitors.
There are plenty of shops and restaurants to fill your nights, along with beautiful waterfront views.
Some of the shops in Georgetown include Alex and Ani, Alice and Olivia, and Billy Reid.
If you're looking for something to spruce up your wardrobe, check them out!
The restaurants are a mixture of casual and dressy with some in-between.
One of the nicer places to eat is 1789, which is in an old Federal House, or La Chaumiere which is about as fancy as the name makes it sound.
A more casual place to grab a bite is the Good Stuff Eatery or Farmers Fishers Bakers.
There is fast food, but you're on vacation, so try something new!
Bring a jacket though, it might get chilly close to the water.
11. Ice-Skating
In the winter there are several outdoor rinks perfect for skating with a date or with the family.
You can go during the day, but there's something enchanting about skating outside under the stars.
Have fun and be careful out on the ice! Here are a few options for ice skating at night in Washington:
12. Dinner Cruise
This is a perfect way to end the day of sightseeing in Washington, cruising down the Potomac River while enjoying a quiet dinner with your family or loved one.
See the city sights at night from a different perspective and sip a glass of campaign or enjoy a cold beer, relaxing on one of cruise options on offer.
Here are a couple of cruises definitely worth considering.
This ride last between 2.5 and 3 hours and you will be served a 3-course meal as you go down the river.
There are 3 different dining rooms, all stunning, to chose from, or you can head to the deck to get a better view!
You can dance to the live music or simply keep an eye out for the city's monuments.
Sometimes less is more, but sometimes we just want more.
With this all you can eat buffet cruise, you can have all you want and more!
This cruise is also about 3 hours long and like the Odyssey, it includes music and amazing views of the city and the monuments.
13. Visit Bartholdi Park
Located next to the United States Botanic Garden, Bartholdi Park is a favorite to locals and knowledgeable tourists alike.
It isn't overcrowded like some gardens and parks get in this bustling city, so it offers a sense of peace.
The fountain in this park is why you should visit at night.
The lights, water, and solitude create the perfect atmosphere for relaxation and peace of mind.
The paths are as well lit as the fountain and offer safety to late visitors as well as the ability to see some of the plants in rare light.
14. Get a Drink
Planning and executing a trip to a busy and sometimes confusing city like Washington DC calls for a celebration and a break.
Find a bar or a pub and grab a drink.
Go out dancing with friends or people you meet on your adventure.
Here are some great bars and pubs to grab a drink:
If these pubs and bars don't suit, you can join a tour a cover another range of unique pubs and breweries on a 5 hour Washington Brewery Tour.
15. Cherry Blossoms at Sunset
No ticket needed for this activity. Simply take a walk in one of the three National Parks where the Cherry Blossoms grow: around the Tidal Basin in West Potomac Park, in East Potomac Park (Hains Point), and on the Washington Monument grounds.
The cherry blossoms are beautiful during the day, but take on a magical atmosphere during in the light of the setting sun.
The Cherry blossoms bloom for only a few days so keep an eye on cherryblossomwatch.com and plan your trip around the time they will bloom.
There are bound to be more night activities in Washington, so if you have any recommendations, leave your comments and experiences below.