In any major city, the fun doesn't end just because the day does.
For visitors young and old, Prague plays host to a number of fabulous evening attractions and activities.
From clubs and bars, to peaceful river cruises, we have compiled a list of ten ways to wind down your day in Prague.
1. Prague Old Town and Medieval Underground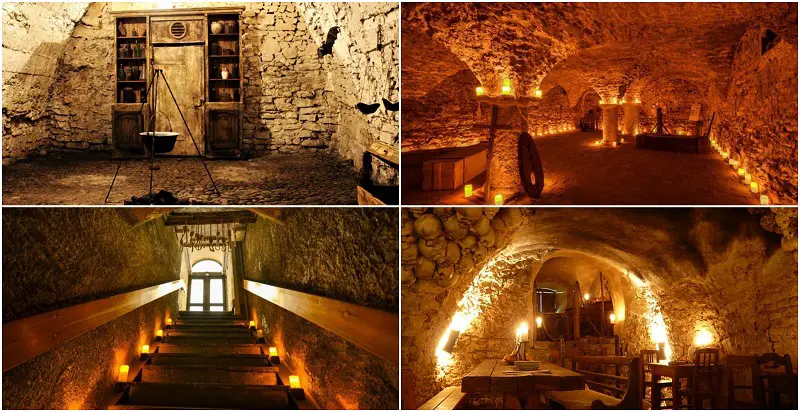 Join a guide and see the secrets of Prague underground tunnels.
The medieval paths were built in the 12th and 13th centuries, carrying with it tales of dark history including murders and epic disasters.
Your guide will share all the stories that have contributed to the evolution of Prague on a 70 minute tour you'll never forget!
---
2. Zizkov Television Tower
When observing Prague's city skyline, one can't help but notice the industrial TV tower looming over the red-roofed neighborhoods.
Built in 1985-1992 – in spite of its controversy – the tower brags three national accolades: The tallest building, the highest observatory, and the second ugliest building.
At 93m, the observatory provides the best views of the city.
Directly below the observatory is the Oblaca Bar and Restaurant where you can enjoy fine Czech dining or a cocktail while watching the sun set behind Prague's historical monuments.
---
3. Municipal House Dinner
The Municipal House was built in 1912 and serves as a stunning example of Prague Art Nouveau.
Its beautiful interior plays host to numerous events, exhibitions, performances, and lounges.
Enjoy a thrilling orchestra in Smetana Hall.
Dine in one of the Municipal House's two restaurants: the French Restaurant, considered to be one of the most beautiful Art-Nouveau restaurants in the world, or the underground Pilsen Restaurant where you can enjoy authentic Czech cuisine to the melody of live accordion music.
Grab a cocktail at the American Bar – the oldest bar in Prague and the second oldest bar in Europe.
---
4. Pubs, Bars & Clubs
It is no secret that Prague holds some of the best clubs and bars in Europe.
Simply walking through Old Town Square at night means running into a barrage of club promoters, willing you to come to their location.
It is impossible to provide a comprehensive outline of all the Prague has to offer in terms of its nightlife, however here are some of Prague's most bustling and well-regarded locations.
An excellent way to experience Prague nightlife without spending a lot of time wondering where to go is to join a pub crawl.
Most crawls include some drinks, entrance into the bars and clubs, a knowledgable tour guide, and of course, a group of travelers also looking to have a good time.
---
5. Prague Castle at night
See one of the largest fortresses on earth shining brightly at night, Prague Castle.
As a local guide takes you to the castle ground on a tram, you'll learn about the history and stories behind Prague Castle on this 1.5 hour tour.
This night tour is great for romantic couples.
You'll also have plenty of opportunities to take some great night photos of Prague from high ground.
---
6. Dinner River Cruise on Vltava
See Prague at night from a different perspective on the Vltava River while enjoying gourmet food on a cruise.
There are various tour options from 2-3 hours, with some including live entertainment on board.
This is a great option for those looking for a romantic evening with their loved ones.
Sights you would expect to see on all dinner cruises include Charles Bridge, Prague Castle, Vyšehrad, and the Rudolfinum.
---
7. Petrin Tower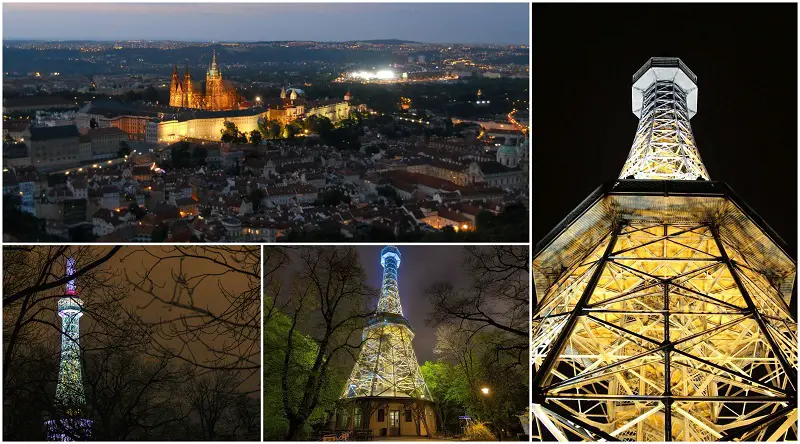 Fondly referred to as "Prague's Eiffel Tower," the 60m tall Petrin Tower sits on a hill to provide panoramic views of Prague.
It is surrounded by a beautiful park with multiple attractions.
After you take in the nighttime views, pick your way through the mirror maze.
Or you can wander the gardens and grab a bite and a beer at the Brevnov Monastery, the oldest active monastery in the Czech Republic.
As an active monastery, full access to the monastery is limited to the weekends.
You can also visit the Štefánik Observatory and learn about astronomy as well as the observatory's own observations and discoveries.
Finally, learn some history at the famous Hunger Wall, built in 1361 during a time of famine to keep out the poor and starving and protect Prague's citizens.
---
8. Prague Zoo
On Friday and Saturday nights at 5:30pm and 6pm, the Prague Zoo opens its doors for special night tours.
The 5:30 tours are specially catered towards kids with tour guides who are ready and equipped to create an experience the younger crowd will enjoy.
Night tours allow a rare view into the nocturnal lives of the animals, when many become more active.
The tours have a limited capacity in order to provide a more intimate experience for patrons.
Because of this, evening tours must be booked in advance.
---
9. Scary Ghost Tours
Prague has had a long history of ghosts, legends and mysteries.
Join a local guide to hear all the spooky stories in Old Town, underground dungeons or back alleys while admiring some of Prague landmarks at night.
Most ghost tours are a comfortable walking pace, with 1-2 hours of spooky stories revealing Prague's frightening past.
We highly recommend the Night Time Alchemy and Mysteries Walking Tour which also takes you to the Prague's Castle District.
This tour goes for approximately 2 hours led by a lantern carrying storyteller.
---
10. Czech National Theatre
Prague is home to a rich history of performing arts.
The musical culture is apparent as you walk down the street and pass a violin duo entertaining an enthralled throng on a street corner or young artists performing their original piece for tourists in Old Town Square.
You would be remiss to forego a classical performance in one of Prague's many beautiful venues.
The Czech National Theatre is the Czech Republic's representative stage.
It provides some of the best performances in drama, ballet, opera, and Laterna magika, Prague's nonverbal theatre.
With four historic venues – the National Theatre, The State Opera, The Estates Theatre, and The New Stage – each performance presents unique ambience as well as a program like none other.
A night with the Czech National Theatre is a night to remember.
---
Bonus: Mozart Concert and Dinner
For the ultimate experience in Prague at night, enjoy a 3-course dinner while listening to the best classical music from Mozart.
You'll be dining at the historic Boccaccio Ballroom, perfect for romantic occasions.
A welcome drink will be included as you listen to 2.5 hours of Mozart classics.
Several options are available on the menu as well as vegetarian.
Tickets do sell out fast, so get in quick!
---
Whether you want a cultured night at the opera or a wild night out in town, Prague will deliver.
The city is filled with travelers and locals alike looking to have a good time.
So, get out, meet new people, and explore the city at night to see all that it has to offer.
Also read:
Find More Things to do in Prague at Night