If you could only stay at one hotel in Las Vegas, where would that be?
It's pretty difficult to decide since this large city in Nevada has not just fascinating sights, but fabulous hotel attractions too.
Many of them are like small cities offering more than you could imagine like the Eiffel Tower or gondola ride.
Except for the obvious: hitting table games, poker rooms or baccarat pit, every hotel has something unique to offer.
We've compiled a list of 18 best Las Vegas hotel attractions that offer plenty of exciting activities, shows, and events to keep you buzzing during your stay.
1. Bellagio Hotel and Casino
If you've always wanted to visit Italy's Lake Como but never had the chance, head to the Bellagio Hotel to see what you are missing.
The hotel is inspired by Italian town, Bellagio, and famous for its elegance.
Before even entering the hotel you'll have the chance to enjoy the dancing fountains synchronized to music.
They are in the middle of an eight-acre lake in front of the hotel and erupt every half an hour during the day and every 15 minutes throughout the evening.
When you do enter the hotel be aware that it's the home to Cirque du Soleil's aquatic spectacle "O".
The Bellagio is also home to the Conservatory and botanical gardens, colorful displays decorated with fragrant flowers, and the Bellagio Gallery of Fine Art, special exhibition space displaying artwork that is on loan from museums and private collections.
Check Rooms Check Tours Official site
---
2. Caesars Palace Hotel and Casino

Caesars Palace Hotel & Casino is one of the largest and best known Las Vegas attractions.
Replicas of famous Greek and Roman statues and massive columns that are giving a sense of a life during the Roman Empire are something you should be expecting.
Among them, there is also Forum Shops, the mall with more than one hundred boutiques with restaurants and cafes.
Caesars is a home to Omnia, three-level nightclub with a high-tech chandelier which moves in sync with the music.
The terrace of the club affords a beautiful view of Las Vegas Strip.
For fans of a naughtier circus, there is Absinthe, a live show hosted by former Cirque du Soleil's clowns.
The show is for adults only described as experimental with a strong erotic vibe.
The hotel is often associated with shows held at The Colosseum, more than a 4.000-seat entertainment venue.
Check Rooms Check Tours Official site
---
3. Planet Hollywood Resort and Casino
In the place where the Planet Hollywood Resort & Casino stands, originally stood the only major hotel in Las Vegas that didn't include a casino.
It was eventually replaced by a Hollywood themed hotel where you can now gamble while go-go dancers entertain you.
The pool area at this hotel features FlowRider, freestanding wave in Las Vegas, where you can surf without fear of injury.
Enjoy the show with magicians and brilliant dancers in the theatre or catch a performance showcasing international pop music icons.
If you like shopping you should know that Miracle Mile, a shopping mall with 170 stores, wraps around this hotel with its own fountain show.
Check Rooms Check Shows Official site
---
4. Mandalay Bay Hotel and Casino
The one thing you should not miss at Mandalay Bay Hotel and Casino is the Shark Reef Aquarium.
The massive tank holds a wide variety of sawfish, sharks, turtles, piranha and other animals.
The most impressive thing is the Shark Tunnel. The hotel has its own wave pool, beach, and also three wedding chapels.
Visit House of Blues Music Hall or secure the ticket for Cirque du Soleil show "Michael Jackson ONE" that celebrates his artistry and messages of peace and love.
The Mandala Bay Hotel and Casino complex also includes The Delano hotel and the Four Seasons Las Vegas.
Check Rooms Check Tours Official site
---
5. Flamingo Las Vegas Hotel and Casino
This tropical themed casino hotel is housing a wildlife habitat featuring flamingos, of course.
They are in the garden courtyard and you can also see turtles, Koi fish, Ringed Teal ducks and other birds.
Enjoy a burlesque with a sexy ladies or Dony and Mary Osmond, brother and sister musical duo show.
You can also see the superstars performing and acting like Elvis, Aretha Franklin or Michael Jackson in Legends in Concert show.
If you would like to ride the monorail along the Strip, the stop is behind the hotel.
Check Rooms Check Tours Official site
---
6. MGM Grand Hotel and Casino
This is the largest single hotel in the US and the third largest hotel complex in the world.
Above the entrance, there is Leo the Lion, a large bronze 14-meters tall statue to keep with the MGM Lion theme.
Here you can find custom-made machines with multi-million dollar prizes.
L'Atelier de Joel Robuchon is considered to be a gem of a dining spot.
After dinner, you shouldn't miss the Topgolf – a four-level entertainment venue with interactive golf games.
If you enjoyed watching CSI Las Vegas, you can try to solve a murder performing realistic CSI tests or you can enter a virtual reality where exciting adventures are waiting for you.
Check Rooms Check Activities Official site
---
7. Mirage Hotel and Casino

You can easily recognize the Mirage Hotel and Casino by a massive volcano in front of it which erupts at regular intervals blasting fireballs to music.
It is also well-known for the Beatle's LOVE, show in Cirque du Soleil production.
At Siegfried & Roy's Secret Garden and Dolphin Habitat, you can come face to face with rare breeds of large white-colored cats and watch several bottlenose dolphins.
You can, also, try being a dolphin trainer or paint with them witnessing dolphin's talent.
For serious players, there is no limit Texas Holdem tournament and for beginners complimentary poker lessons.
Check Rooms Check Tours Official site
---
8. Rio All-Suite Hotel and Casino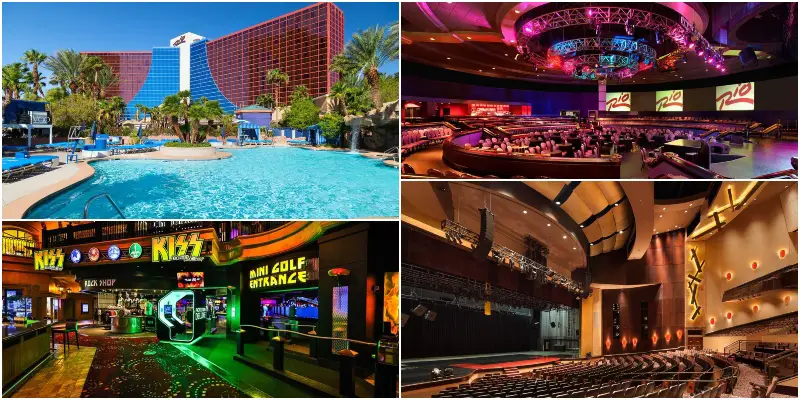 Named after the city of Rio de Janeiro and influenced by Brazilian culture this hotel is covered in blue and red glass.
There are several private villas on the property as well as the wine cellar.
The Rio All-Suite Hotel & Casino is the host casino for the World Series of Poker.
In Rio's poker room almost every poker game is available.
When you get tired playing poker, try the VooDoo Zip Line from the Rio's Masquerade Tower to the Ipanema Tower and back.
You'll get to see Sin City from another very exciting angle at 250 meters cascading 53 kph in a comfortable two-seat chair.
Check Rooms Check Tours Official site
---
9. Treasure Island Hotel and Casino
Although hotel originally intended to attract families with a pirate theme, this idea was largely abandoned.
The hotel provided adult amenities: party-sized hot tub, and a nightclub.
Skull-and-Crossbones sign at the entrance was replaced by "TI" sign which appeared in many movies and TV shows.
It is the home to Cirque du Soleil's Mystere, a show that has an international cast of 72 performers including dancers, singers, musicians, and acrobats.
A pedestrian bridge connects the hotel to the Fashion Show Mall shopping center with more than 250 stores.
You can visit the interactive and educational exhibit Marvel Avengers S.T.A.T.I.O.N. and train to become an official agent.
You'll also get to see Captain America's uniform and shield.
---
10. Paris Las Vegas Hotel and Casino
If you've always wanted to visit Paris, and see the Eiffel Tower, but never had the chance, you can visit Paris Las Vegas.
In front of the hotel stands a half-size replica of the Eiffel Tower.
From its observation deck, you can take in a 360-degree view of the city as well as the Fountains Bellagio.
There are more iconic sights of the French capital's: a replica of the Arc de Triomphe, the Paris Opera House, and the Louvre.
If you want to go shopping, Paris Las Vegas offers you a variety of small boutiques housing French designs. Relax in the Napoleon's lounge or head to the rooftop dance floor in the Chateau Nightclub.
Check Rooms Check Activities Official site
---
11. Circus Circus Hotel and Casino
With circus acts and carnival type games featuring daily, it is clear that this hotel hangs onto a carnival theme.
A big tent frames the entrance and there are even acrobats, jugglers, and clowns performing above the casino floor.
It's actually the world's largest permanent circus.
If you love the adrenaline rush take a ride on El Loko roller coaster at Adventuredome.
This indoor amusement park offers various rides and attractions including 18-hole miniature golf, video-arcade games, and of course clown shows.
For Shopaholics, there is an array of stores filled with gifts, souvenirs, and unique items.
Check Rooms Check Tours Official site
---
12. New York-New York Hotel
This hotel is designed to resemble New York skyline, including Brooklyn Bridge and very convincing Statue of Liberty.
The highlight for most visitors is a ride on the Big Apple Roller Coaster that circles in and around the hotel.
To complete the New York experience, there are several bars and New York-style pizzeria.
If you have a sweet tooth you should know that the hotel is home to the Hershey's Chocolate World with more than 800 kinds of chocolates and candies.
There are also a variety of shows like "Zumanity" by Cirque du Soleil.
---
13. Wynn Hotel and Casino
Wynn Hotel and Casino is one of the most elegant and sophisticated hotels on the Strip.
It looks like an oasis surrounded by pine trees and waterfalls.
Experience the award-winning aquatic spectacle Le Reve – The Dream, perfect for couples.
When the sun sets enjoy the Lake of Dreams, a large waterfall, and nightly spectacles of music and imagery created by the lights, holographic and puppetry.
In the evening you can enjoy in secluded nightclubs surrounded by lagoons.
Together with its sister resort Encore, the Wynn complex is among ten largest hotels in the world.
Check Rooms Check Tours Official site
---
14. The Venetian
It is beyond doubt one of the most stunning themed resorts in Las Vegas.
It manages to evoke the romance of Venice with replicas of the Rialto Bridge, St. Marcus Square and singing gondoliers plying along the Grand Canal.
When you enter the hotel you'll notice it's filled with light, and the area that connects the hotel check-in and casino is impressive.
The Venetian's casino is said to be one of the best when it comes to a variety of games.
If you want to take a break visit Canyon Ranch Spa and discover a new level of relaxation.
An enormous shopping mall Grand Canal Shoppes connects the Venetian Hotel & Casino with its sister resort the Palazzo.
Check Rooms Check Tours Official site
---
15. LINQ Hotel
The LINQ Hotel is next to the LINQ promenade filled with shops, restaurants, and bars.
However, the High Roller Ferris, the worlds tallest observation wheel, attracts the most attention.
It stands 550 feet high and takes thirty minutes for one full rotation.
It provides outstanding views, particularly at sunset and at night.
At the hotel, you can find entertainment mainly for adults like seasonal party pool with DJs, as well as a spa featuring a Himalayan salt cave.
In addition to other games in the casino, you can also find some beer pong tables.
Check Rooms Check Tours Official site
---
16. Stratosphere Hotel, Casino and Tower
The Stratosphere Tower has indoor and outdoor observation deck with great views of the city.
It rises up 1,149 feet (350 meters) and it is the tallest observation tower in the US.
In addition, there can be found a variety of thrill rides like Sky Jump, Bungee-jumping-like ride.
Visit the shopping mall Tower Shops or the revolving Top of the World restaurant that offers unbeatable Strip panoramas.
The same goes for one floor above, 107 Sky Lounge.
The hotel and the casino are actually not in the Tower itself but in the building next door.
On the rooftop, there is a seasonal Radius Pool for adults only, that offers panoramic views while enjoying the poolside scenery.
Check Rooms Check Tours Official site
---
17. Excalibur Hotel and Casino
This is a Medieval-themed hotel named for the sword of King Arthur.
Its facade is designed to resemble a castle with candy-colored turrets.
Visit the world's famous arcade, the Fun Dungeon, and test your skills on a variety of games.
If this doesn't suit you, experience the medieval-themed dinner show Tournament of Kings.
It is a tournament performed with 12 breeds of horses and 32 cast members in an amphitheater called King's Arthur's Arena.
The show also includes a feast that is meant to be eaten without utensils.
Check Rooms Check Tours Official site
---
18. Luxor Las Vegas Hotel and Casino
With a Sphinx in front, and shaped like a pyramid, it is clear The Luxor Las Vegas Hotel & Casino is designed as an ancient Egypt theme.
Its beam of light that shoots up into the sky from the highest point of the pyramid can be seen from throughout Vegas.
You can, also, see the exhibitions that showcase real full-bodies and organs or travel through the history by experiencing the authentic artifacts recovered from the wreck site of the world's famous ship – The Titanic.
Visit IMAX theaters or exclusive nightclubs like LAX where Britney Spears and Christina Aguilera have hosted parties.
Check Rooms Check Tours Official site
---
Las Vegas is a great place to visit any time of the year.
With its sparkling lights, fountains, and glamorous hotels, this city offers fun and excitement.
If you want to find more luxury hotels in Las Vegas, check out these guides:
For activities in Las Vegas, read:
Find more Las Vegas Attractions